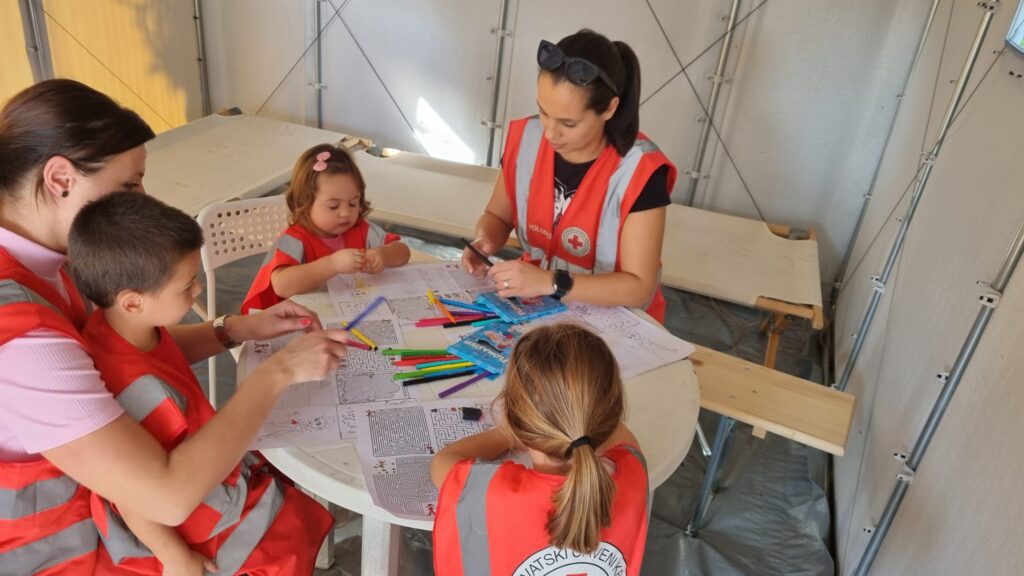 Children are particularly vulnerable after an emergency. Addressing their mental health is crucial, especially in complex emergencies when, for example, a disaster coincides with a pandemic. Losing one's home can be a traumatic experience and many children have been living in temporary container settlements since the earthquake. Many show signs of concerns about the future and feelings of helplessness, loneliness and fear are common.
The Red Cross psychosocial program for children includes recreational and educational activities adapted to individual needs and age. These let the children occupy their minds with entertaining activities, while learning in the company of their peers. Through the activities, the Red Cross teams try to stir the children's imagination to, albeit briefly, get their minds off the scenes in the aftermath of the earthquake, their destroyed homes, and the fear.
The Red Cross means that it is of utmost importance to continue with their activities, so that the children they support can keep living as carefree as possible and continue to develop and be stimulated. The goal is therefore to continue to provide psychosocial support, education, and development for children in the earthquake-affected area as long as it is required.
On 29 December 2020 at 12:19 PM CET, Croatia suffered a devastating earthquake of 6.2 magnitude. The epicentre was approximately 3 km from Petrinja, located some 50 km from Zagreb. The earthquake was felt throughout northern Croatia – especially in Zagreb – and in large parts of Slovenia, Bosnia and Herzegovina, Serbia, Austria, Hungary, and Italy.
Almost all buildings in the towns of Petrinja and Glina were damaged or destroyed. The old historical centre in the city of Sisak was destroyed, and many residential buildings in Hrvatska Kostajnica. Heavy damages to housing were also reported in the outskirts of Zagreb County and Karlovac County, as well as in the centre of Zagreb City, where the buildings had already been damaged in an earthquake in March 2020.
In addition to the regular distribution of humanitarian aid by mobile teams, the Red Cross regularly provides psychosocial support to people affected by the earthquake. This type of support is important in the aftermath of a disaster, as people often feel scared and worried about the future. Psychosocial support is provided to people living in evacuation centres, as well as to people in their homes.
THE RHUs PLAY AN IMPORTANT ROLE
The RHUs used by the Red Cross play an important role in the provision of crucial aid to both adults and children affected by the earthquake. Thanks to the services offered in the shelters, children have improved mental and general health in several parts of Croatia.
The units in the town of Sisak are currently being used for psychosocial counselling, for voluntary blood donations and as field offices. They also serve as distribution hubs of humanitarian aid and warm meals for local populations affected by the earthquake.