Because of its geographic location and topographical makeup, the Assam state in northeastern India is prone to some of the highest rainfall seasons in the world. With each passing year, the flooding and erosion issues affecting Assam become more intensified and damaging.
Already, 2022 has become a particularly devastating season. Since July, roughly 200 people have been killed and over one million displaced from the flooding.
Watching from the peripheries of the state was Mohit Alam Laskar, a 27-year-old photographer, working as Head of Marketing at Strive, a web 3 based startup in India. Mohit's family is native to Assam, fluent in the local and rural languages, but his father's work took them across many cities in India while he was growing up. Now himself an adult, Mohit decided to return to his roots in Assam, renewed with the commitment to document the effects of climate disaster on his community.
Going to the site, meeting with the communities and SEEDS, I was enriched by the whole experience. I never thought just a mere photography initiative could teach me so much.
Mohit Alam Laskar, photographer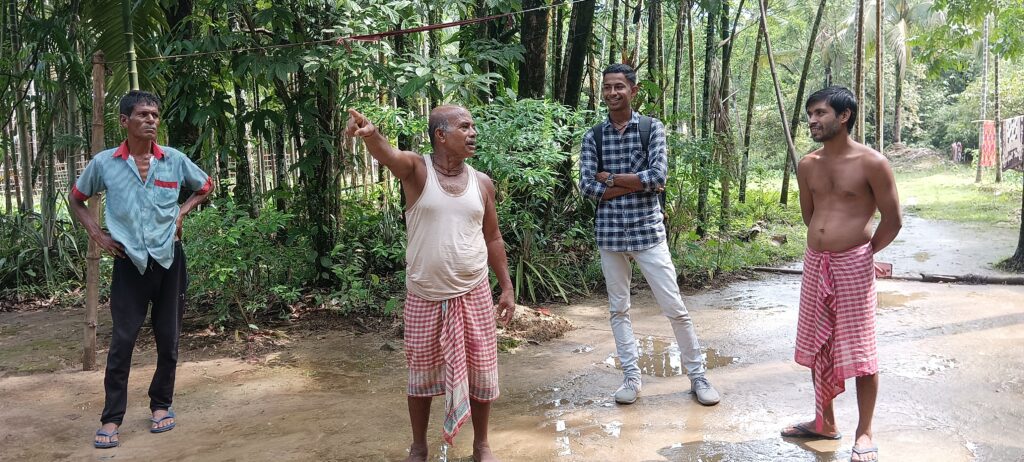 Mohit documented the experiences of families and community members who were recently sheltered in RHU Structures built by SEEDS. SEEDS is an Indian NGO that has been leading humanitarian action for decades, responding to emergencies and rebuilding with resilience. Just as soon as the flooding began to take the homes of communities in Assam, SEEDS was on the ground distributing critical aid.
Mohit met ten families on the site where SEEDS helped build RHU Structures to replace the homes they lost in the flooding. Take a look at how a new home brought hope to some of these unique community members: from a single mother of two, with a roof over her head to give her security; a family brought closer together as their homes became bigger; a pair of brothers able to reinvest in their livelihoods after losing everything; and a special man whose strong faith answered his prayers for a house and life better than the one he had.
Reaffirming a life of simple purpose
Narad is a daily wage labourer who lives alone but is known in his community for his warm company. He loves nature, but when flooding arrived in Assam, he lost everything. The loss of all his material possessions including his home, did not, however, blunt his strong faith.
He prayed for a new home, and the answer exceeded his expectations. SEEDs helped install the RHU Structure frame, led by Narad's knowledge on locally available materials for cladding. With this same creativity, he made his own furniture.
I wished to god to give me a better house than I had. God took the small house I had and now I have this big house.
Narad, daily wage labourer, Assam, India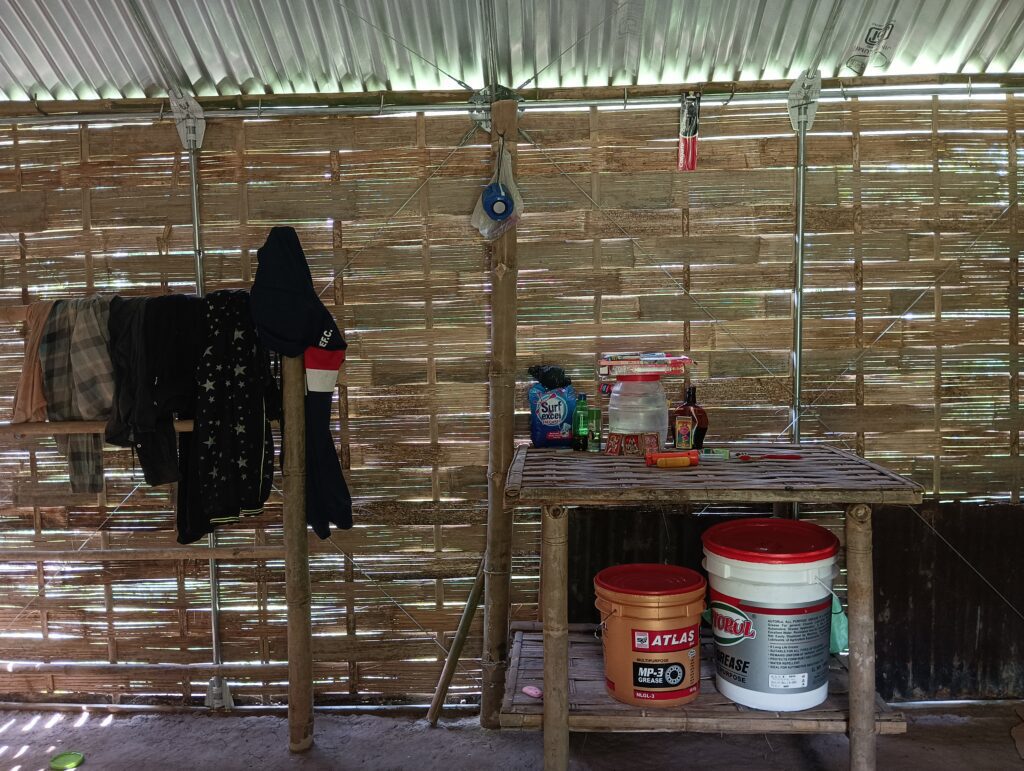 Narad's only language is Sylheti, a local language spoken by a small minority in Assam, which not too many Indians from out-of-state are familiar with. As a result, he encountered difficulty in requesting help from aid workers. Speaking in Sylheti, Narad was able to tell Mohit that it was not just his unique knowledge of the land, but also the language barrier which prompted him to lead the upgrade of his own RHU Structure home.
While Narad's prayers for a new home were answered, the flooding enlightened his perspective on purposeful living. An excess of material possessions does not give him any more meaningful fulfillment in life, noting that only the essentials and security of a house is all he needs to make him happier than he has ever been.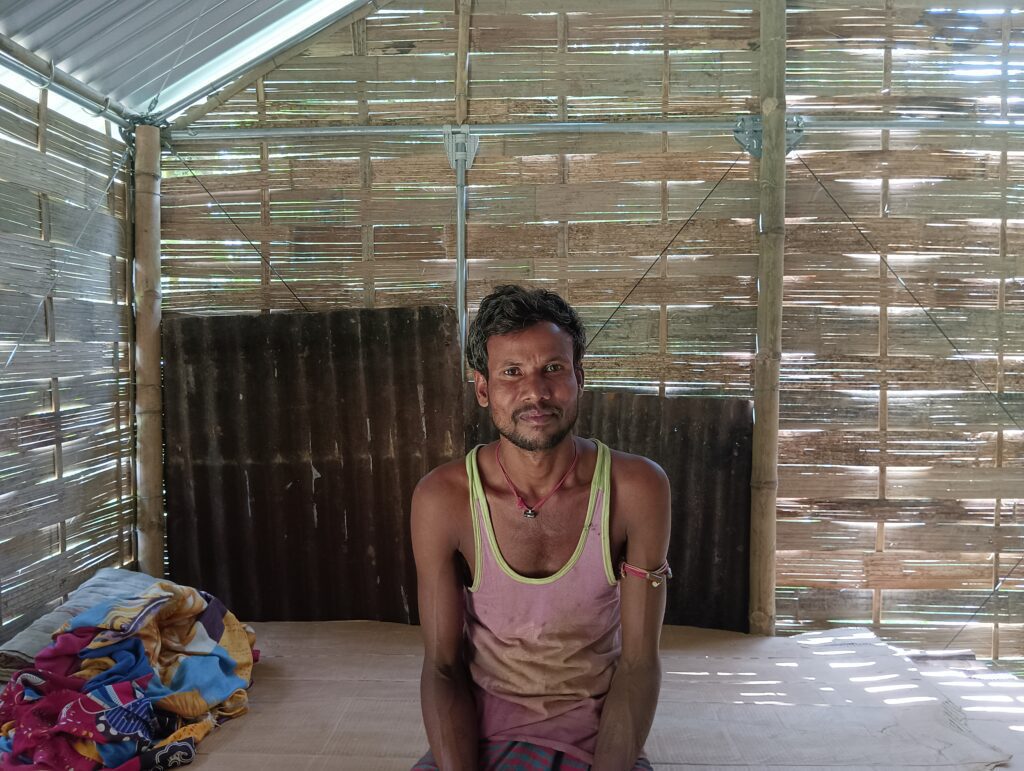 Empowering independence with safety and security
Jyposna lost her husband three years ago after he suffered an illness, leaving her and their three daughters. She lost her house in the floods, after it was underwater for 20 days. With no men in her family, she had no way of recovering the pieces of her home.
The villagers provided her with a tent to live in temporarily until SEEDS arrived and offered her an RHU Structure. With only the ability to write her name in the local Sylheti language, Jyopsna was surprised by the shelter and aid she received, having thought she had no other option than the tent.
She told Mohit how reassuring her new house was to her, as a single mother, who now worries less because she has solid walls and a lockable door. She's already made personal touches, by building her own terrace with steel leftover from roofing, among other materials. She has plans to make her home even more permanent by building on the bamboo walls with mud of the land.
Because I have a roof over my head, I don't have to worry about my daughters.
Jyposna, community member and mother of two daughters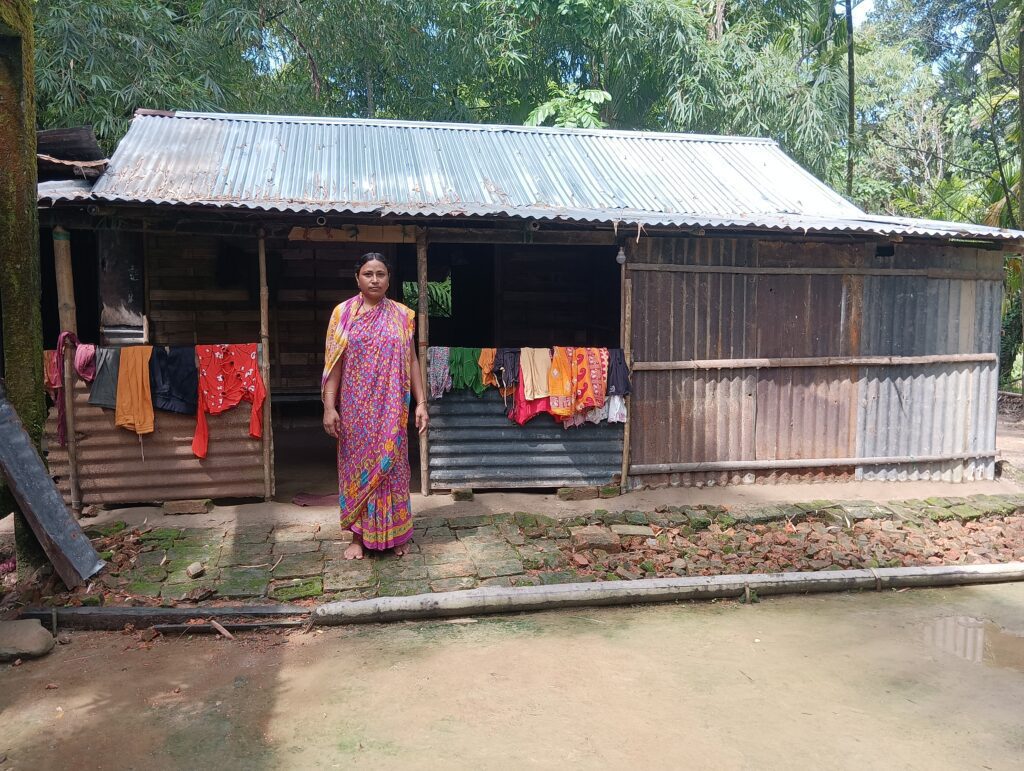 Rebuilding livelihoods
Shahrul and his younger brother, Hamid are both fisherman whose work was based in a single pond that was twice devastated by flooding in Assam. To recover from the first flood, Shahrul and Hamid invested most of their savings to bring back fish and aquaculture to cultivate in upcoming seasons. When the second flood arrived, they lost everything.
SEEDS offered the brothers an RHU Structure as a home, and the brothers intend to make it stand for many years. Since they are able to build on the Structure frame with locally available materials, they are alleviated from the burden of spending the remainder of their savings on recovering their personal assets, and can invest their savings back into their fishing business.
I was given the base, and now I want to make it a permanent house.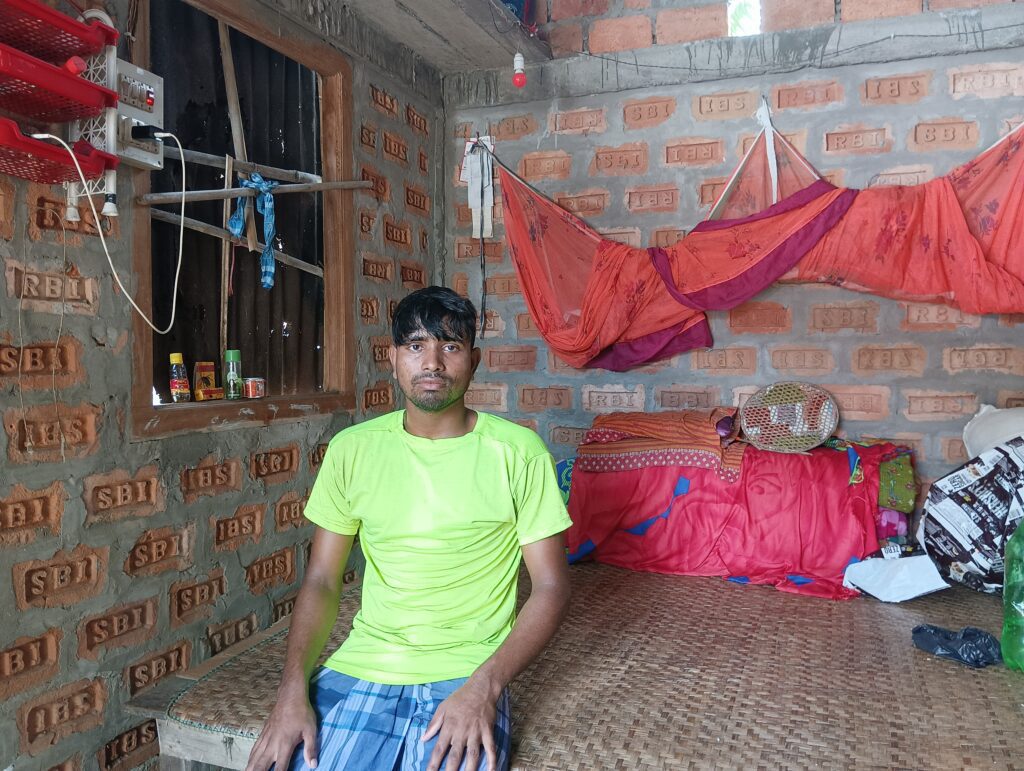 Bringing families closer together
Pinki and her sister always had a close bond. So close, that their homes were nearly attached, for years even as they started to form their own families. However, the flooding put both their homes underwater for 20 days. Their homes were beneath water so much that they could not see the roofs. 
SEEDS offered both sisters an RHU Structure, and helped to build the frame in the same position as their original homes, but Pinki considers her new home to be an upgrade. She was determined to make the shelter even more personal and functional as her previous home, intending to live in her new home for the rest of her life.
I am thankful for this bigger house. Now I have enough area for all the kids.
Pinki, community member and mother of three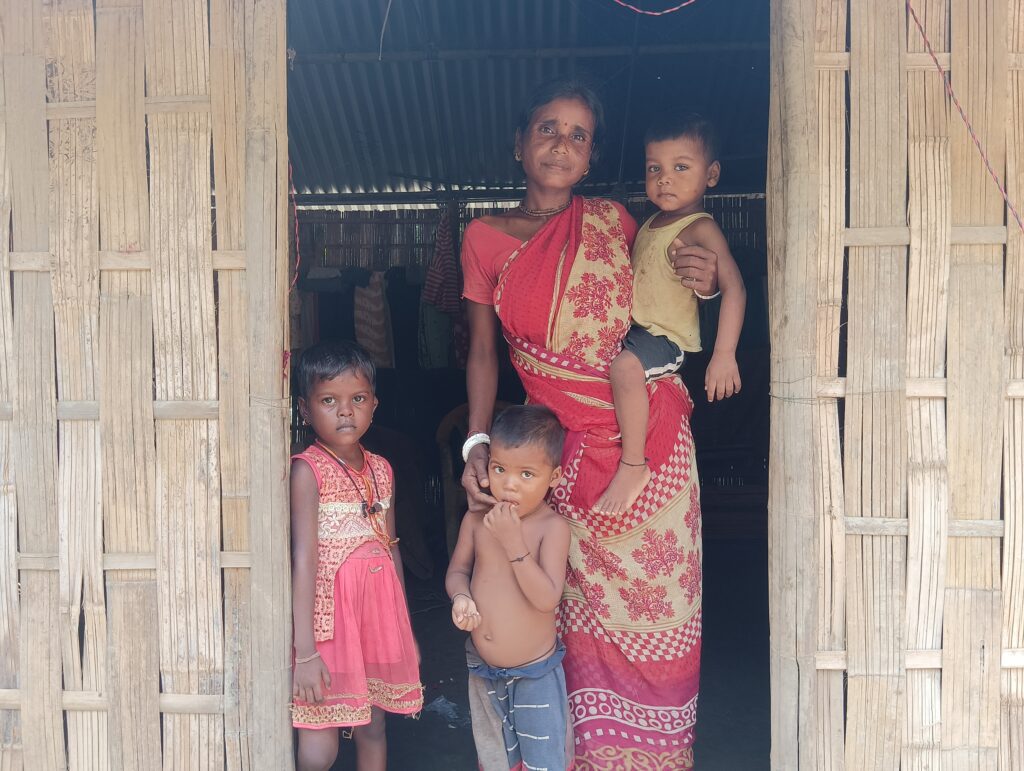 Living in her new home permanently meant that Pinki had to how consider she and her children can live comfortably all year long, through all seasons. She intends to apply the steel frame and bamboo cladding with a top layer of mud, to cool the house in the frequently warmer temperatures.
But the biggest benefits of Pinki and her sister's larger homes is that they now have common areas for their children, and a cooking area in the outdoor yard for their families to share meals and memories.