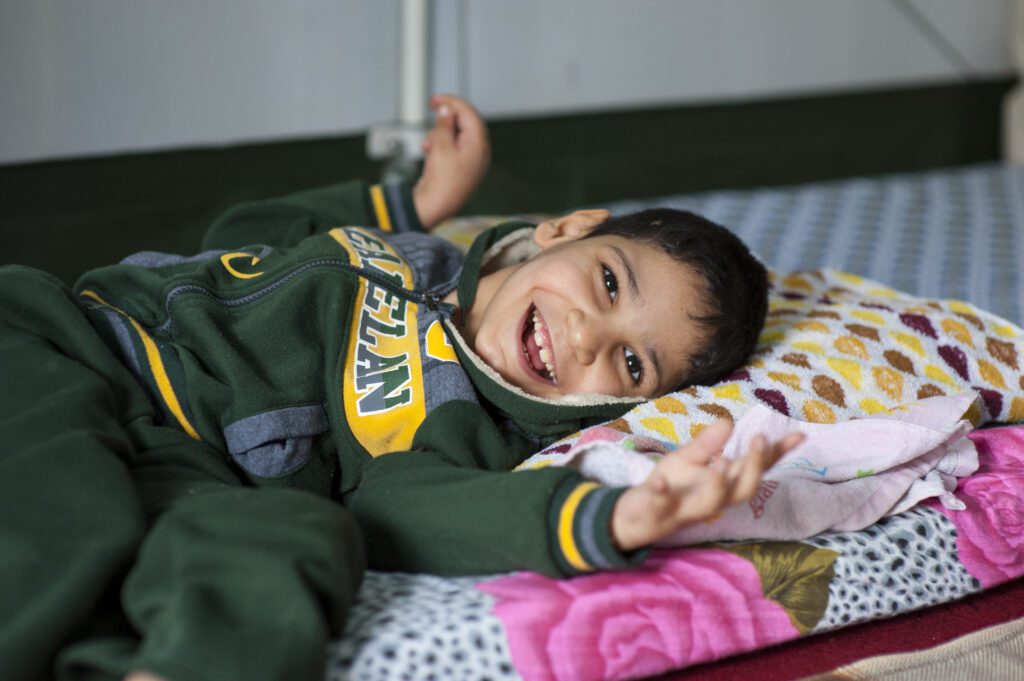 Mohammed was born with arm and leg disabilities and doesn't have a full-time job. He used to work as a day labourer, selling food items. His brother used to help him out a lot back home. His son Qoutaiba is disabled – he is house-bound, cannot talk, and can only get around with the help of a wheelchair. His parents say it is due to lack of oxygen at birth, resulting in brain damage. The family arrived in Al Jamea'a camp in April 2015.
Mohammed: "We were threatened by ISIS and decided to leave home. The shop I worked in was burnt down. We received verbal threats against us. There was no safety for us and we decided to go to Baghdad. Many people, many neighbours, left at the same time. It took us about two days to get here. We only brought a small bag of clothes with us. We took our son in a wheelchair, but it broke during the journey, so we had to carry him. We went for about 5 kms on foot and it was really tiring to have to carry our son. We reached Bzeibiz bridge and waited for a sponsor so we could come here. We had relatives who sponsored us and we came directly to this camp. We spent the whole summer living in a tent. It was so hot; we were all sweating a lot and the bathrooms did not work. One case of typhoid was reported in the camp. My son was crying so much because of the hot weather. He had to stay inside the tent for 24 hours a day, as there was no other place he could go.
Iman: "We suffered here from lack of privacy. I had to carry Qoutaiba from the tent to the mosque every day, as there were no hygiene facilities at the beginning. I had to make him wear baby diapers. It was very hard. Also, we all got diarrhoea because it was so hot. Our new shelter is so much better. The tents were open from all sides. We were so excited to learn that we could get a new shelter. It gives us more protection and is much more private. When we moved here, Quotaiba's crying decreased…he was more peaceful and more relieved. It's more comfortable for him here.
Mohammed: "We would like to be able to provide our children with everything they need. Sometimes, for example, my daughter asks for pocket money but I cannot give her anything. Every two months, we have to go to hospital to see the doctor to get medical treatment for Qoutaiba. He receives injections and drugs. It is expensive for us. We end up paying about 50,000 Iraqi dinar (around 50 USD). We have some savings we have used and we sold all my wife's gold jewellery to pay for his treatment. Now, we depend on charitable donations."
Mohammed: "Honestly, our future is a mystery. We do not know when we will go back. We would hope to go home today…before tomorrow. I cannot work here, because I am disabled and depend on charitable donations. I do not like to be reliant on others. I want to provide for my family. But we will decide to return when its safe; when the infrastructure is there and we have a safe environment for our family."
© UNHCR/Sebastian Rich